MICRO-FIX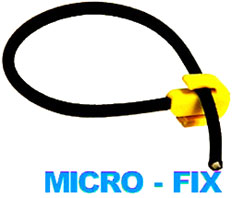 MICRO-FIX is a clip fastener.
THE universal tool for bundling.
This is what the world has been waiting for: an adjustable elastic band.Ideal for cables, temporary installations, hi-fi systems, power supplies, but also for keys, fishing rods, and so on.
Easy to close and open with one hand, yet safe and reliable, even in long-term use.

Available in lengths from 10 to 50 cm, in 5 cm increments. We would be happy to produce special lengths for you. Contact us!

Package à 20 pcs. (stretched max. 25 cm) Art.Nr: 10151020

Package à 6 pcs. (stretched max.25 cm) Art.Nr: 10154006

Package à 20 pcs. (stretched max. 43 cm) Art.Nr: 10251020

Package à 20 pcs. (stretched max. 33 cm) Art.Nr: 10201020

Package à 10 pcs (stretched max. 50 cm) Art.Nr: 20301010

Price per piece. (stretched max. 50 cm) Art.Nr: 10300001

Price per piece. (stretched max. 58 cm) Art.Nr: 10350001

Price per piece. (stretched max. 70 cm) Art.Nr: 10400001

Price per piece. (stretched max. 90 cm) Art.Nr: 10500001