PEARL-FIX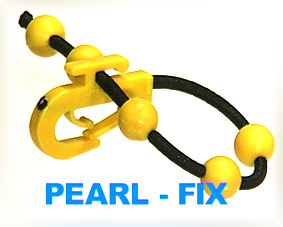 The classic in the BIND-FIX family. With the practical bead anchor for adjustment and the patented cable clip. So you don't lose your valuable BIND-FIX. Simply clip and hang up. Practical and reliable.

Forget about the tangle of cables in your electronic devices in the future.

Also available as a version with TWIN-CLIP!
In double length with 2 clip hooks to cut yourself.

Pack á 3 pcs. (stretched max. 25 cm)

Pack á 3 pcs. (stretched max. 50 cm) Art.Nr: 40362003